Phone:
&nbsp&nbsp &nbsp (815) 777-0143
Email:
&nbsp&nbsp &nbsp TSHI, Inc.






Website Questions, Problems?
Email Webmaster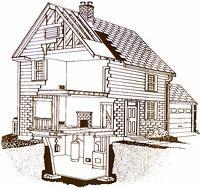 Welcome to Tri-State Home Inspections 'home' on the world wide web. Here you can find out all of the information that you need about a home inspection from us and why we are the professionals in quality home inspection in the Tri-States.
Why You Need a Home Inspection: A home inspection includes a visual examination of the physical structure and systems of a home or building. Many homeowners have benefitted from our annual home checkups. If you are thinking of buying a house or condominium, call us before you buy.
Why Tri-State Home Inspection, Inc? We are the professionals in quality home inspection in the Tri-States. Kevin C. Doyle, President is recognized nationwide as an outstanding home inspector. He is accredited with many orginizations such as the EPA, NFPA, and ASHI. Our inspection range is wide, with areas in Illinois, Iowa and Wisconsin. So if you are buying a home in Dubuque, Freeport, Galena, Platteville and many surrounding towns give us a call!

(Call (815) 777-0143 for inspection availability in the surrounding region).

Professional, Accurate, Invaluable. The purchase of a home is the largest single investment you will ever make. You will want to know exactly what you are buying in terms of repair and maintenance costs. A fresh coat of paint can hide serious structural problems. Water marks in the basement may indicate chronic seepage or may be the result of a single incident. Your home inspector interprets these and other clues, then presents his professional opinion as to the condition of the property.
Just ask the happy home owners who have called us:

"Those few dollars invested up front paid for themselves many times over and prevented the owner from passing the problems on to us."
-John Hafkemeyer,
Dubuque, IA

"Kevin assisted us in learning more about our home, pointing out the positives and negatives. Furthermore, his recommendations led to improvements we made which resulted in cost savings."
-Mike and Stacia Brannon, Dubuque, IA

"Words cannot begin to explain the astonishing detail of the information . . . I have called Tri-State a number of times over the past year, and the information I received has saved me several times the amount of money I spent on the inspection itself. You cannot beat a deal like this!"
-Rev. Dr. Elmer M. Colyer, Ph.D., Dubuque, IA

"My investment with Tri-State Home Inspections has proven to be sound on both occassions I've purchased homes . . . I would not buy a home iwthout having Kevin Doyle inspect it first.
-David C. Rashid, Galena, IL